Steel Structure Fabrication & Erection in Kansas
We provide turnkey solutions for steel structure buildings in Kansas and the central U.S. From design and engineering, to fabrication and erection, we can complete your project on-time and on-budget. If you have a Steel structure project you'd like to discuss, give us a call:
Steel structure buildings are an efficient and cost effective choice for many applications. We specialize in buildings for the petrochemical, chemical and refining industries. But also provide services for industrial and agricultural customers throughout Kansas.
Benefits of Steel Structure Construction
The benefits of steel structure constructions range from economical value to lifespan and durability. The material used in these buildings is lightweight, which reduces cost and construction complexity. It's also versatile, and easy to work with, which means shorter project timelines. Steel structures offer:
Highly Durable Product
Fabrication Process Reduces Timelines
Cost-Effective Materials
Fire and Water Resistant Material
Resistant Water Damage
Adaptable to Design Concepts
Recyclable and Environment-Friendly
Easy to Repair
Easy to Clean and Maintain
Corrosion Resistant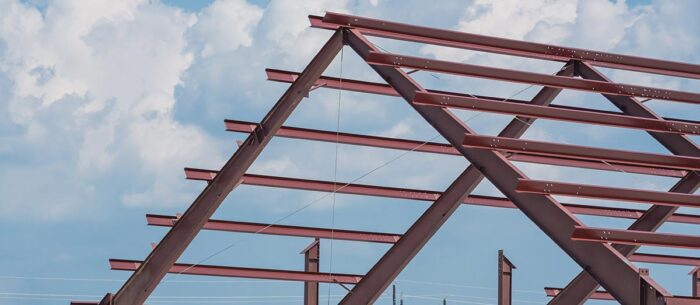 Our Construction Process
Structural steel fabrication allows for efficient workflow, and quality end product. CD&H has extensive experience fabricating and building these structures on industrial and commercials sites across Kansas, Oklahoma, and the Central United States.
Our design, engineering and construction teams have extensive experience with steel structure fabrication. We strive to maintain highest standards of quality and safety.
Step 1 – Planning: We first develop a project plan based on your goals and budget. We then acquire permits and create timelines and project milestones.
Step 2 – Ground Work and Site Prep: During the phase the site ground are cleared and graded.
Step 3 – Foundation: The footings and foundation is installed, along with utility lines are run. Many steel components are prefabricated, those are prepped at this time.
Step 4 – Framing: Beams and support columns are installed. This also includes secondary framing.
Step 5 – Sheeting: Next, wall and roof panels are placed.
Step 6 – Trim: When the structure is erect, windows, doors, utilities, and appliances are installed.
The process is very efficient, which is why many chemical, refining and l pipeline industries often utilize steel building constrution.
We are based in El Dorado, KS, but provide service throughout the state. We've completed steel structure construction projects in: Wichita, McPherson, Dodge City, Kansas City, Salina and other cities in Kansas and the Midwest.