Oklahoma City Industrial and Commercial HVAC
CD&H specializes in industrial and commercial HVAC work in OKC, and throughout the state of Oklahoma.
We are a full service mechanical construction contractor with the capability to install, repair and maintain large scale heating and cooling systems located in industrial complexes, municipal structures, manufacturing facilities, large commercial buildings, and pipeline facilities.
We provide end-to-end service, from HVAC system design, to fabrication, to installation. Our heating and cooling systems are built to your specifications, with efficiency, budget, and timeline in mind.
Heating & Cooling Services
Air Conditioner Repair
AC Installation
Furnace Repair
Furance Installation
Duct Fabrication
Ductless HVAC Systems
Preventative Maintenance
Boiler and Chiller Service
Rooftop Units
Air Quilty & Humidity
VRF Systems
And More
HVAC Maintenance Experts
We provide ongoing maintenance for heating and cooling systems in the OKC area. Our flexible maintenance programs allow you to focus on your business, while we manage all of your heating and cooling needs. This is a cost effective way to ensure optimal operation, and little to no downtime.
Our maintenance plans ensure your heating and cooling systems are fully operational, clean, and efficient. HVAC equipment has mechanical components, which can be proactively maintained, to reduce the risk of a breakdown and imcrease lifespan of your equipment. Consistent heating and cooling helps ensures your business is operational at all times. Our industrial HVAC programs are available in Oklahoma City, and throughout the state.
HVAC Installation
Our heating and cooling install teams are equipped to install equipment in existing structures, as well as new construction projects. We install furnaces, air conditioners, heat pumps, radiant systems, ductless systems, Variable Refrigerant Flow (VRF) systems, and more.
Commercial HVAC Services
Our commercial teams work on all types of equipment in the Oklahoma City, OK area. From small ductless units, to large rooftop units. We bring quality, efficiency, and value to every project.
We also provide comprehensive maintenance plans for ongoing furnace, AC, and related HVAC equipment.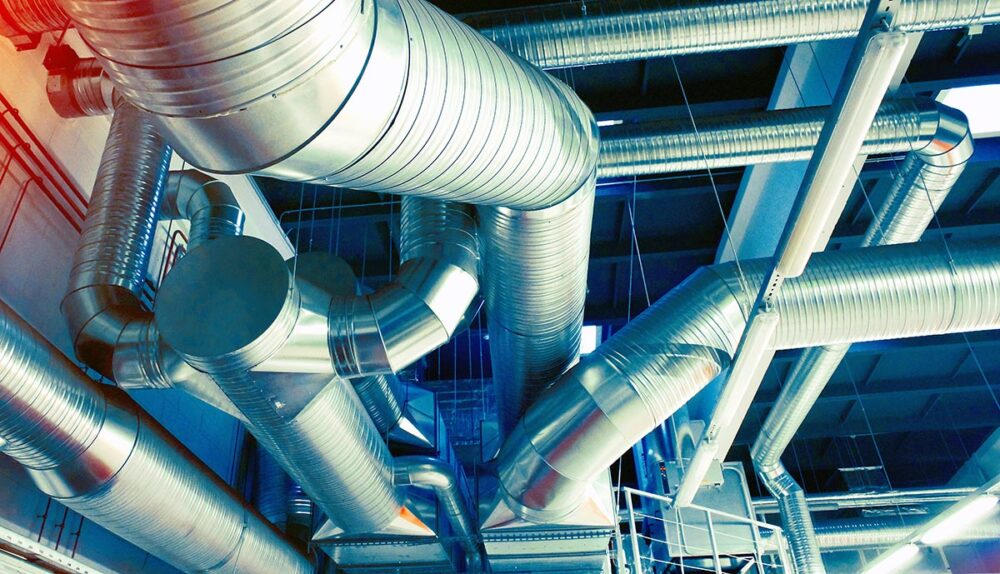 HVAC Duct Fabrication
CD&H's HVAC fabrication services are available for our industrial and commercial customers in the OKC area. We specialize in ductwork for industrial buildings, manufacturing facilities, and large commercial applications.